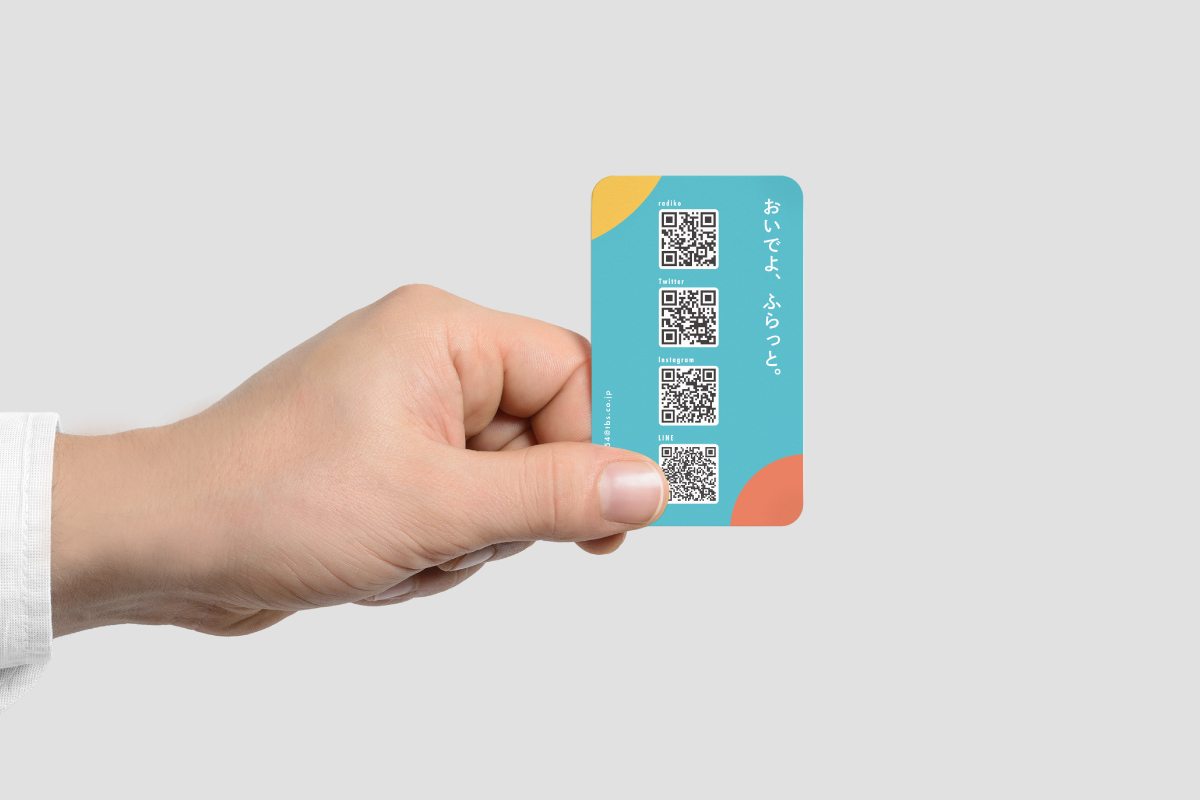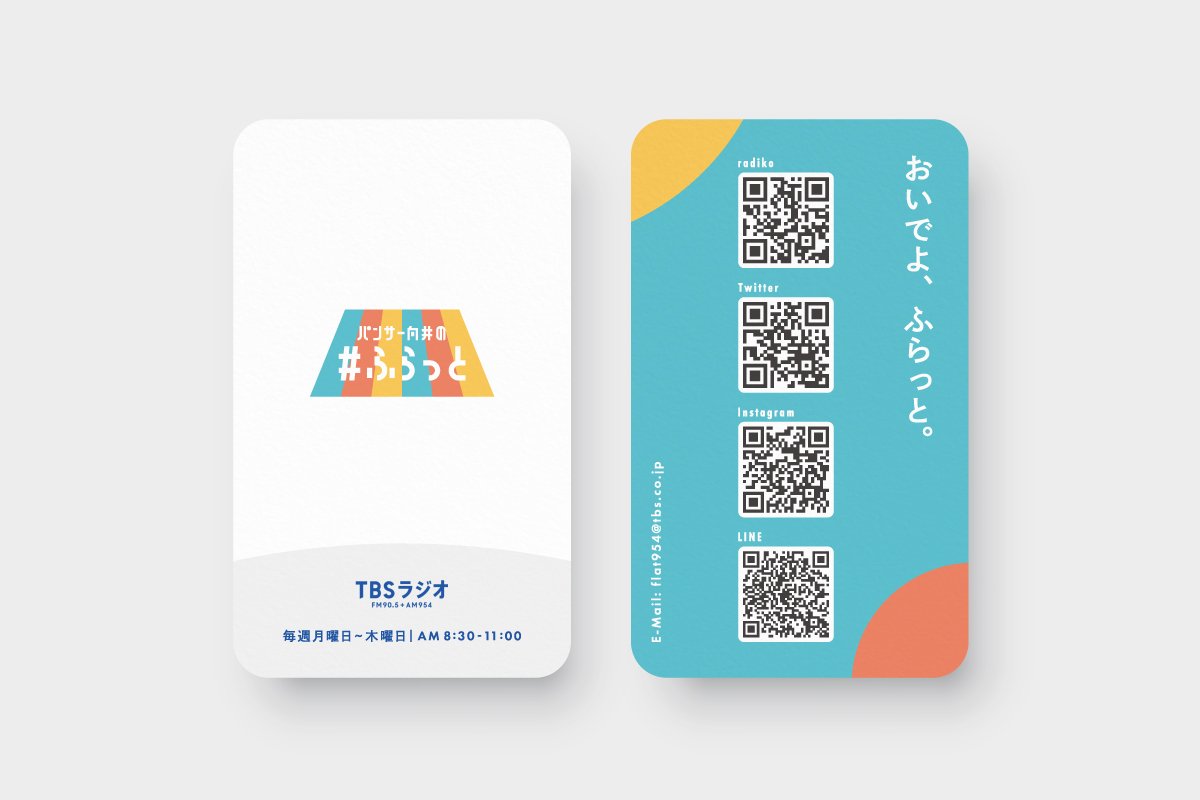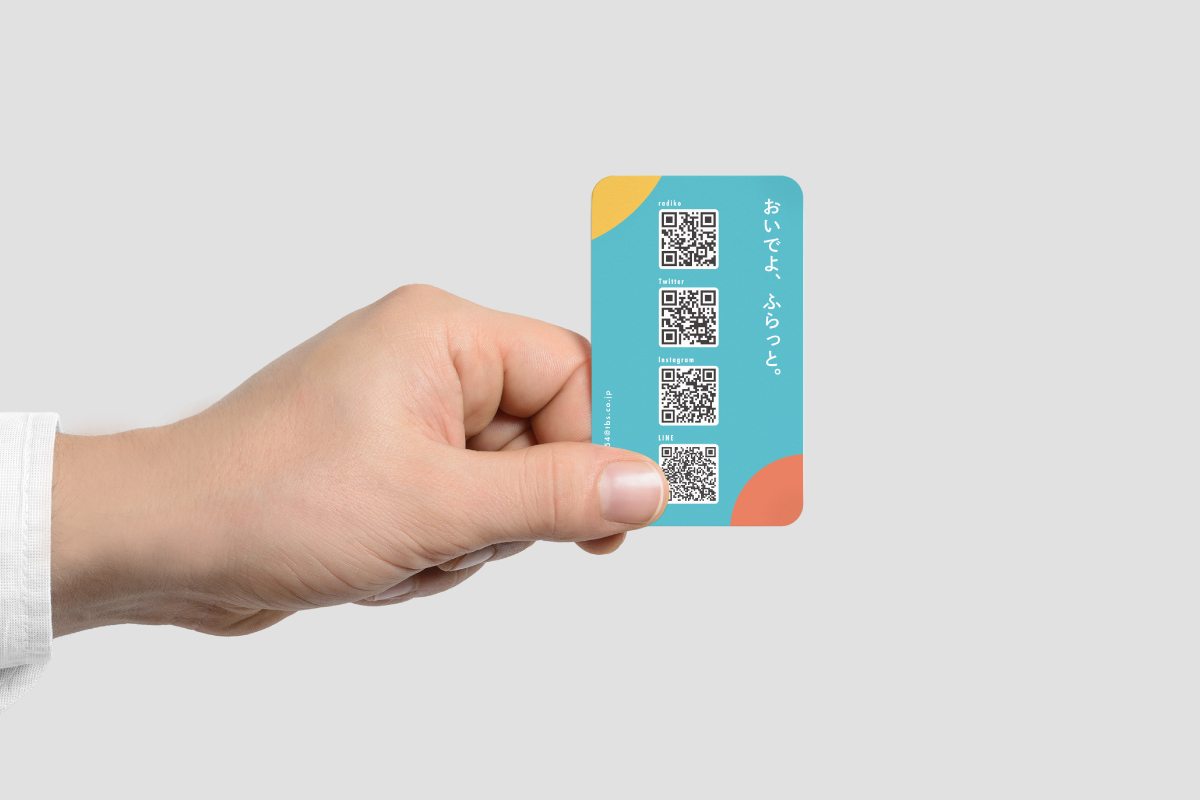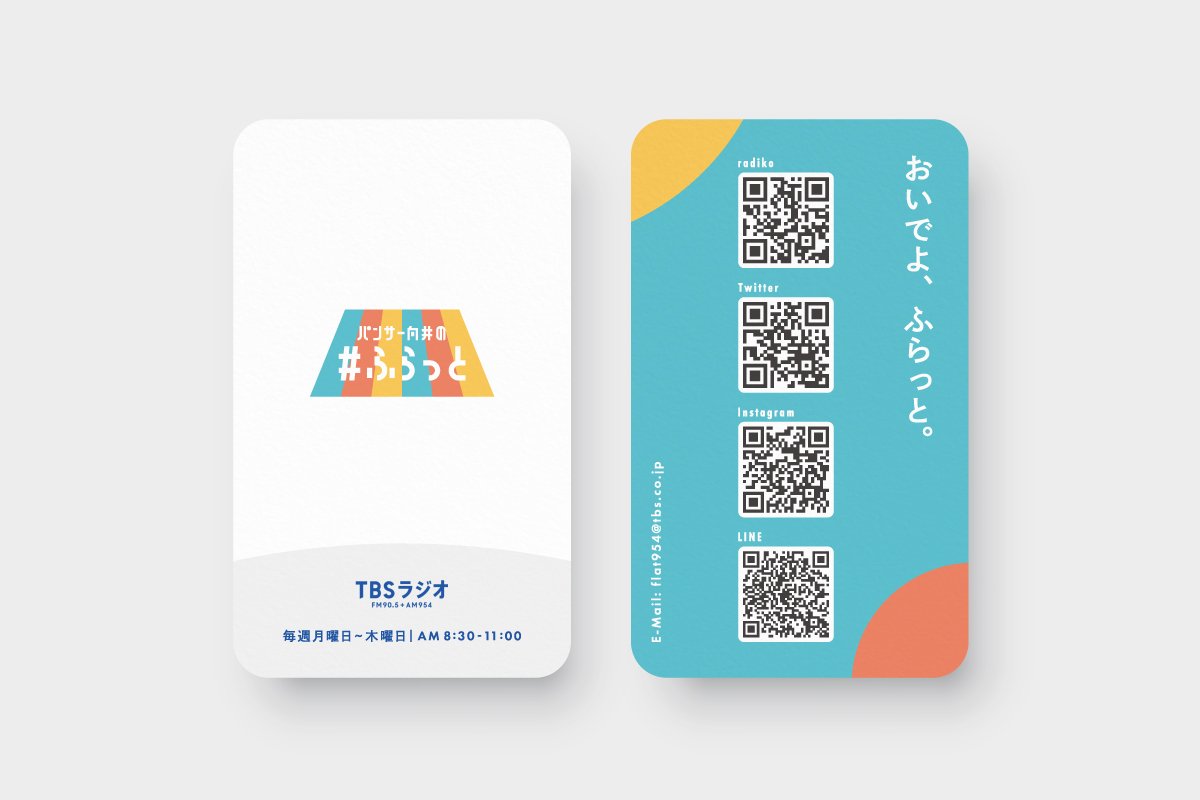 TBS Radio — Panther Mukai no #Flat Novelty Cards
We designed the cards for a radio show that is hosted by Mukai of Panther, a very popular Japanese comedian. The design is minimalist and abstract, a nod to the title, Flat (which means stop by on a whim in Japanese). In addition, the entire card is rounded and printed on high quality Japanese paper with a pleasant touch, so that the MC Mukai and the program's unique heartwarming atmosphere can be felt through the card. In addition to the basic blue, the cards come in three colors, orange and yellow as rare cards, making this item an entertaining way to see what you will receive.
Read MoreClose
TBSラジオのワイド番組『パンサー向井の#ふらっと』の番組カードのデザインを担当いたしました。ロゴのトーンマナーを引き継ぎつつ、タイトルの「ふらっと」に込められた「誰でも気軽にふらっと立ち寄る」というコンセプトをミニマルな抽象スタイルで表現しています。また、番組ならではの柔らかで日向のような雰囲気が感じられるよう、デザインからカドをなくし、手触りが魅力の上質な厚紙にプリントしました。カードは基本のブルーに加え、レアカードとしてのオレンジ、イエローの全3色。何がお手元に届くかのドキドキ感も味わえるアイテムです。

TBSラジオ『パンサー向井の#ふらっと』毎週月〜木曜日 08:30-11:00
パンサーの向井慧さんをメインパーソナリティーに、滝沢カレンさん、ココリコの田中直樹さん、三田寛子さん、髙橋ひかるさんという素敵なパートナーが曜日ごとに登場します。気になる番組詳細は、こちらをご確認ください。

続きを表示閉じる
Release: 2022
Client : TBS Radio
Great Producer: Takahiro Hattori

Creative Direction / Graphic Design / Platemaking
Inowe of INTRO

Printing and Processing: Yell Co., Ltd
Best Business Associates: Aya Kawachi

This work was completed with the help of
TBS Radio producer Hattori, my best work colleague Kawachi,
and a factory with excellent printing technology.
I would like to take this opportunity to thank you.

The best radio programs make all of Japan smile!
BACK TO PAGE